Holidays are the quintessential necessity of one's life, holidaying is that necessity which everyone deserves. It is expected to be relaxing and as a source of gathering further energy to continue with our daily routine, so, if you're planning to go on a Vacation to Vietnam, let us tell you it is a scenic and spectacular travel destination. With the collage of Vietnam tourist places like mountains & deep valleys, rivers & seas, sparkling white sand beaches, delta creeks, sand dunes, monuments, sanctuaries and national park, Vietnam is a complete package.
There are numerous things to see in Vietnam. None should be skipped. Here is a detailed list of the best places to visit in Vietnam. Scroll down and pick your choices before planning a holiday to Vietnam.
Hanoi Region
If you want to time travel and know more about the glorious history of Vietnam, you must visit the Hanoi region of the country. Complemented with temples, amazing theatres, ancient citadels, and other splendors, this region is really one of the best places to visit in Vietnam. So, while you are in this country, visit Hanoi and don't miss the following places.
Best Time To Visit Hanoi: October and November are the best months to visit Hanoi. The days are not too hot. There is little rainfall and plenty of sunshine.
1. Imperial Citadel Of Thang Long: Where History Comes Alive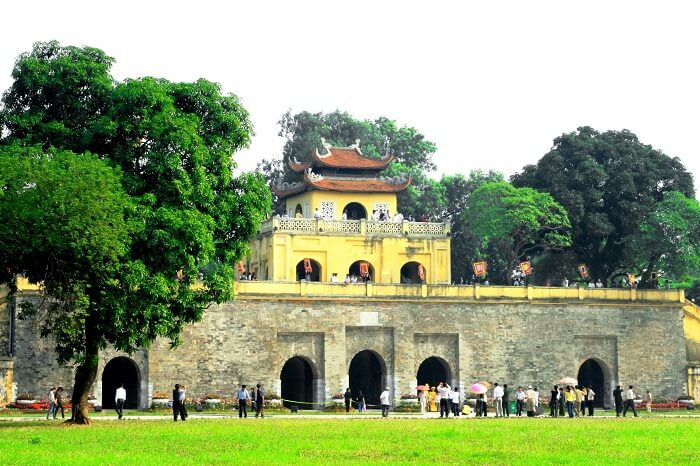 As a place of the former political centre of the country for 13 uninterrupted centuries, Imperial Citadel of Thang Long is one of the most famous Vietnam tourist spots. A World Heritage Site since 2010, this place is a glorious vintage fortress that reflects the remnants of Vietnamese military power. Archaeological expeditions have found out relics of age-old roads, palaces, wells, ponds, potteries, coins, and many other war remnants.
Don't Miss: Gallery displaying excavated items like bronze coins from China, communications equipment of renowned Vietnamese General Vo Nguyen Giap, bunkers used in American War, and replica model of the citadel
Opening Hours: 8 am – 11:30 am and 1:30 am – 5 pm
2. Ho Chi Minh's Mausoleum: Sanctity And Serenity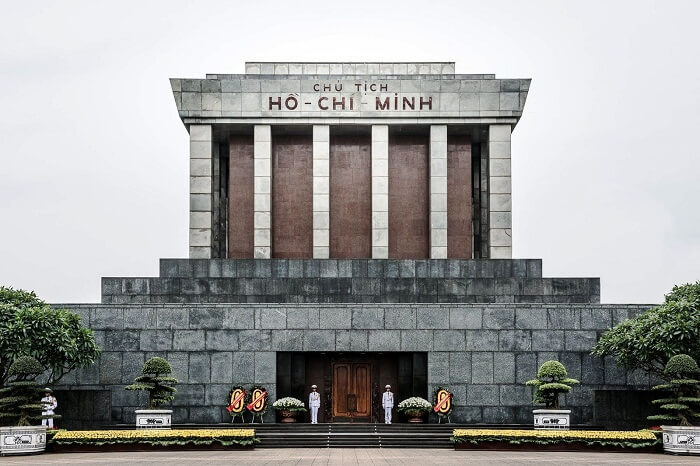 Ho Chi Minh's Mausoleum is a piece of spectacular marble construction, built with materials collected from all over the country. This monumental marble architecture is quite popular and one of the most visited places to visit in Vietnam. Ho Chi Minh's pale body is well-preserved in a glass sarcophagus inside the building.
This place is closed from September 4th to November 4th when Ho Chi Minh's body is taken to Russia for annual maintenance and preservation procedures. People of Vietnam regard this as a sacred place hence there are certain restrictions for visitors.
Note: It is not allowed to wear short clothes, hats, and tank tops inside the premises. Talking on the phone and clicking pictures is strictly prohibited. Also note, nobody is allowed to walk inside keeping his hands inside the pocket.
Don't Miss: The ceremony of change of guard outside the mausoleum
Opening Hours: 8 am – 11 am; Saturday – Thursday
3. Hoan Kiem Lake And Ngoc Son: Where You Can Have Family Time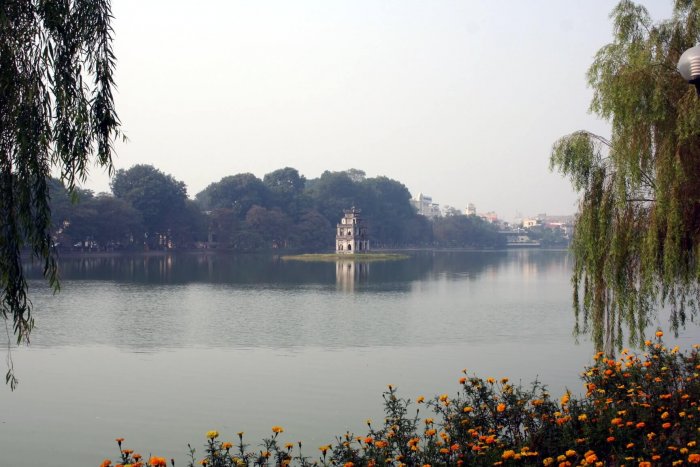 If you are traveling with your family and want to spend a day with fun and laughter this is the place where you should head towards. The lake is also popular as Turtle Lake and is famous for the natural beauty around. And to emphasize the beauty more, there is Ngoc Son Temple in the middle of the lake. Linked by a small bridge to the mainland, the island and the temple is the awesome place where you can take some great pictures with a fantastic background.
Don't Miss: Tai Chi Practise and Line Dancing
Ho Chi Minh City
You may still know this region at its old name, Saigon. It is the largest city in Vietnam and also the commercial hub where you will find anything, from history to the best entertainment zone, the scrumptious food zone to places to hang out with kiddos.
Best Time To Visit Ho Chi Minh City: May – November is the best time to visit Ho Chi Minh city. Tropical downpours can be expected during these months. However, travel is seldom affected by rain. The region is lush and green during these months.
4. War Remnants Museum: A Blast From The Past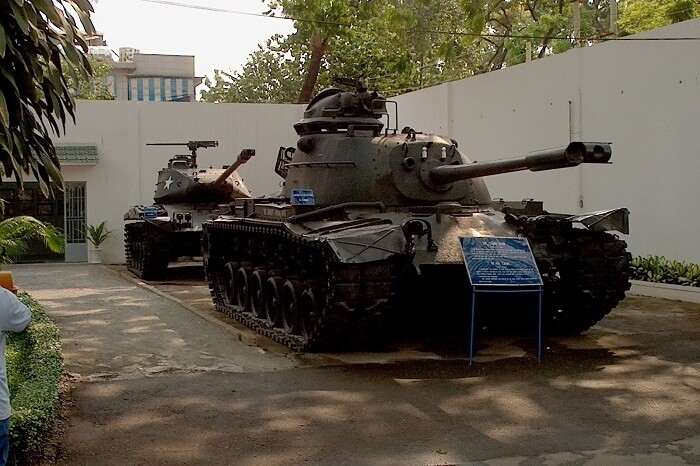 One of the popular tourist places in Vietnam, the War Remnant Museum displays various items and relics of different wars of the world history. A variety of weapons, armoured vehicles, bombs, bunkers, tanks, infantry weapons, and artillery items are displayed here. Being one of the must visit places in Vietnam, the museum also houses a section dedicated to photographs and posters of different anti-war movements and drives that happened globally.
Don't Miss: French weapons and the guillotine tiger cages (used to capture Vietnamese Communist prisoners)
Opening Hours: 7 am – 12:30 pm and 1:30 pm – 5 pm
5. Cu Chi Tunnels: A Thrilling Experience For The Brave Hearts
Cu Chi is a sub-surface tunnel network created for communication purpose. This 250 km long Cu Chi tunnel network was dug in 1940 as a place to hide during Vietnam War against France and was later used during American war for the same reason. It comprises of meandering tunnels, dark & narrow branches, hidden doors, weapon storerooms, and secret routes for canals and rivers reaching up to the border of Cambodia.
As it is one of the thrilling places to see in Vietnam, some of the tunnels have been widened for visitors. If you are a brave heart, you must try the superb experience.
Don't Miss: The two major and most important tunnels – Ben Dinh and Ben Duoc